This year for my birthday we chilled in the backyard and fired up the grill for some friends. I was stumped about what to do initially and finally settled on a fusion feast of sorts.
Thanks to epicurious.com for saving my life yet again... here's the menu.
Korean BBQ beef lettuce wraps
I did them with flank steak instead of rib eye and they were fabulous. The sauce was pretty yummy too- I did add about a tsp of honey to it because it was a little too sharp for my liking. I also served these with
asian style pickled cucumbers
-I substituted serrano chiles for the red pepper flakes for a little more heat. And on the side an
asian style cole slaw
. The sauce for the slaw was SO delicious I think I may use it again over noodles.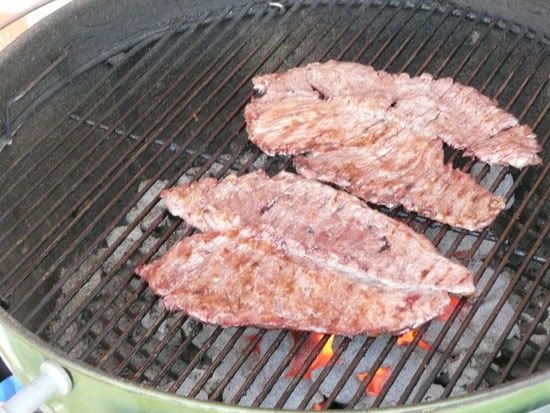 For those that weren't down with the asian inspired menu I also had a taco bar set up. I got carne asada and chicken already marinated from a local mexican market (thanks to the spectacular translation assistance from my girl B-Fresh). To serve with this I had some typical toppers like finely diced raw onion, cilantro and salsa. I also made a
corn, black bean and jicama salad
which was also delicious.
For those not feeling particularly adventurous we also had some sausages and hot dogs and a
potato salad
. Ordinarily I don't like anything with mayo in it but the herbs and lemon really cut right through that.
All in all we had a nice chill day and everybody loved the food. A lot of it even could be prepared in advance which is always a bonus. I did have a minor mishap and got my finger doing some last minute chopping but all is well 2 days later with that. Thanks to epicurious once again for some fabulous party food, and our friends for leaving us with no leftovers.